Carers
Did you know that Carers Support Centre in Croydon offers a wide range of activities and support for those carers in Croydon. The centre is open Monday to Friday from 10am to 4pm.
You can contact them on 0208 649 9339 option 1
email info@carersinfo.org.uk  or visit their website
They offer services such as help with allowance forms, run Tai Chi for carers classes, hold drop in sessions on a Friday from 10am to 12 noon.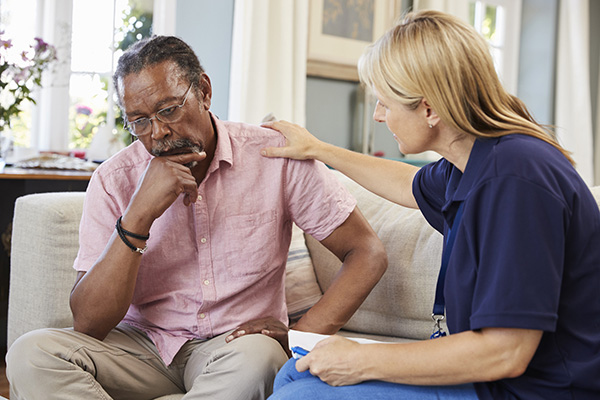 Looking after someone?
Caring for someone can be very difficult and many people find that they need extra help with the care they provide.
Find out what support you might be able to receive here - provided by NHS Choices. This page also provides lots of help and advice.
Carers Covid-19 Engagement Service
This information has been provided by the Carers Information Service

Booster Jabs
The government has confirmed that carers will be prioritised for vaccination in the winter flu campaign this year, but guidance regarding Covid-19 booster vaccinations is still to be released by the JCVI. In a response to questions raised by Carers UK, JCVI stated that "...based on the JCVI interim advice, it is reasonable to assume that those eligible for Covid-19 vaccination in phase one of the Covid-19 vaccination programme are likely to be offered a booster (if boosters are advised in the JCVI's final advice). This includes unpaid carers defined in the Green Book."
Updated Care Home Visiting Guidance
The department for Health and Social Care has updated its guidance regarding care home visitation in England. From the 19th of July onwards:
Every care home resident can have 'named visitors' who will be able to enter the care home for regular visits. There is no limit on the number of 'named visitors' that a single resident can have and no nationally set limit on the number who can visit in a single day.
Every care home resident can choose to nominate an essential care giver who may visit the home to attend to essential care needs. The essential care giver should be enabled to visit in all circumstances, including if the care home has an outbreak (but not if the essential care giver or resident are Covid-19 positive)
Named visitors and residents are advised to keep physical contact to a minimum (excluding essential care givers). Physical contact like hand-holding is acceptable if hand washing protocols are followed. Close personal contact such as hugging presents higher risks but will be safer if it is between people who are double vaccinated, without face-to-face contact, and there is brief contact only.
Care homes can also continue to offer visits to friends or family members through arrangements such as outdoor visiting, rooms with substantial screens, visiting pods, or from behind windows.
Updated guidance can be seen in full here.
Changes to Self-Isolation Rules
From Monday 16 August onwards, people who are double jabbed or aged under 18 are no longer legally required to self-isolate if they are identified as a close contact of a positive Covid-19 case. The change was announced last month, as part of step 4 of the government's Covid-19 roadmap. With 75% of people having received both doses of the vaccine, the majority of adults will no longer need to self-isolate if they are contacts.
However, double-jabbed individuals and under 18s who are identified as close contacts by NHS Test and Trace will be advised to take a PCR test as soon as possible to check if they have the virus and for variants of concern. People can order a PCR home test online or by calling 119, or going to a test site.
As double-jabbed people identified as close contacts are still at risk of being infected, people are advised to consider other precautions such as wearing a face covering in enclosed spaces, and limit contact with other people, especially with anyone who is clinically extremely vulnerable. They will not be required to self-isolate while they wait for the results of the PCR test. Anyone who tests positive following the PCR test will still be legally required to self-isolate, irrespective of their vaccination status or age in order to break onward chains of transmission. Meanwhile anyone who develops Covid-19 symptoms should self-isolate and get a PCR test, and remain in isolation until the result comes back.
Vaccination of Care Home Staff
The Department of Health and Social Care has said that from 11 November 2021, all care home workers, and anyone entering a CQC registered care home, will need to be fully vaccinated, unless they are exempt under the regulations. This will include all customer facing staff, cooks, cleaners, volunteers and also includes staff who may work in the home on a part-time or occasional basis, to deliver non-care-related services, such as hairdressing, maintenance, or activities.
Friends, family (who also may be unpaid carers) and essential care givers will not need to show proof of vaccination as it is felt that it would be unjustifiably detrimental to residents to deprive them of contact with, and care from, their loved ones. While the SAGE Social Care Working Group has advised there is a balance to be struck between the risk of a loved one visiting and transmitting virus, against the wellbeing benefits to those who live in a care home, friends and family members are being advised to access vaccination as soon as they are able.
Free PPE Supplies
As a result of the pandemic, the Government has said it will provide free PPE to unpaid carers in England who are not living with the person they are caring for, to ensure they can continue to care with adequate personal protective equipment. We are working in partnership with Croydon Council to provide this service to carers living in Croydon. By visiting the CarePlace website, you can order supplies of any of the following items: protective gloves, disposable face masks, aprons, eye protection, hand sanitiser.
Go to www.careplace.org.uk or call us on 020 8649 9339, option 1 if you do not have online access and we can place the order on your behalf. Once you have completed the online form, the request is then sent to the Carers Information Service, and we will make contact to assess your needs and make arrangements for home delivery or collection from the Carers Support Centre when we re-open.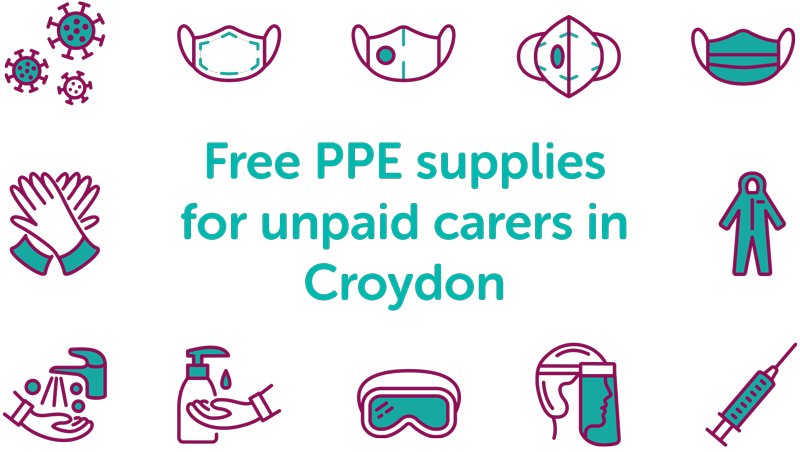 Talks for Carers
Tuesday 14 September, 10.30-11.30am: Speaking Up: Do you find it hard to speak up for the person you care for?  Has this been made harder by trying to deal with professionals and services from a distance during Covid?  Come and join us for this informal session to talk about some of the difficulties and share some strategies that might be helpful to you in your caring role.   
Tuesday 21 September, 10.30-11.30am: Sleep Issues: Lots of carers find it hard to prioritise a good night's sleep particularly if they have to be alert to the needs of the person they care for at night.  Many people have reported a change in sleep patterns especially during lockdowns over the last year.  Come and find out more about sleep patterns and pick up some tips you can try to help you get a better night's rest.  
Tuesday 28 September, 12-1pm: Managing Stress: Caring can be stressful!  And caring during a pandemic even more so.  Sometimes it is hard to recognise our own stress triggers and make sure we are taking care of ourselves.  Come and join this short introductory session to talk about signs of stress and some of things you can do to make a positive change.  
All of these sessions will be held online, to book a place please email enquiries@carersinfo.org.uk and the Zoom link will be sent to you.
Details of our forthcoming free health and wellbeing activities for carers an be found on our website at www.carersinfo.org.uk/whats-on
INDEX - General Information
We use cookies to help provide you with the best possible online experience.
By using this site, you agree that we may store and access cookies on your device. Find out about our cookies.
Functional Cookies
Functional Cookies are enabled by default at all times so that we can save your preferences for cookie settings and ensure site works and delivers best experience.
3rd Party Cookies
This website uses Google Analytics to collect anonymous information such as the number of visitors to the site, and the most popular pages.
Keeping this cookie enabled helps us to improve our website.